Landschap door.grond
For a new exhibition in Velzeke I was asked by SOLVA to paint 6 reconstructions based on archaeological research in the last 10 years.
The exhibition 'Landschap door.grond' (loosely translated: Landscape digs.deeper) shows the fascinating and challenging relationship between landscape and people through time.
Itinerant hunters in a natural landscape in Ruien Belgium.
The remains of this prehistoric hunting camp from around 11000 BC tell us how humans live at the end of the last ice age.
Step 1: 3D blockout
Based on the current topographic height and the excavation rapport, I started with a basic 3D model. This allowed us to pinpoint a certain camera viewpoint. The client approved on this angle and daytime casting soft shadows.
Step 2: First sketch
Using the information from the 3D model I made a quick sketch. The client can now approve on scale and composition.
All important artefacts should be visible on this stage.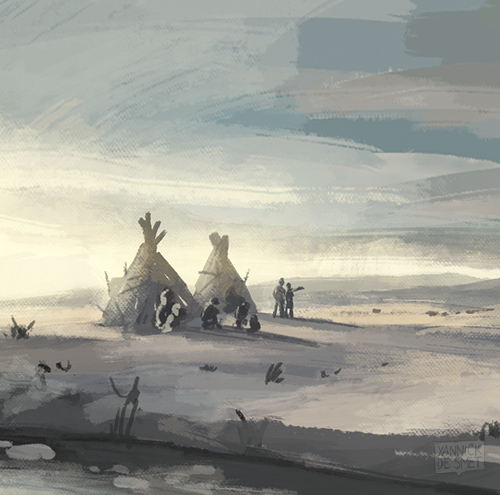 Step 3: Colourstudy
On approval I started laying out quick colours. These rough strokes give the painting an expressive mood. The gray and muted background emphasized the harsh and cold environment from the ice age camp.
Step 4: Digital reconstruction
The colored sketch is then used to make a digital reconstruction. The client can now see how the atmosphere and composition of the painting connects in the final arrangement. Some elements from the painting can still be moved around to improve the final experience.
Step 5: Detailing
When the client approved on all criteria, it's time to start detailing the environment. The background and foreground elements are still separated, so it's easy to keep on moving elements around. This stage is then sent to the designers.

Step 6: The graphic layout
Titles and text will be printed on the painting, it's important to keep those areas free from hard contrast, making text more readable. In the middle of the painting a real life tent will be build. At this point, it was clear that the running guy with the spear might be covered. On the final painting you'll notice he's on the other side of the canvas.
Step 7: Final details
When all elements were approved. The final details and textures could be painted.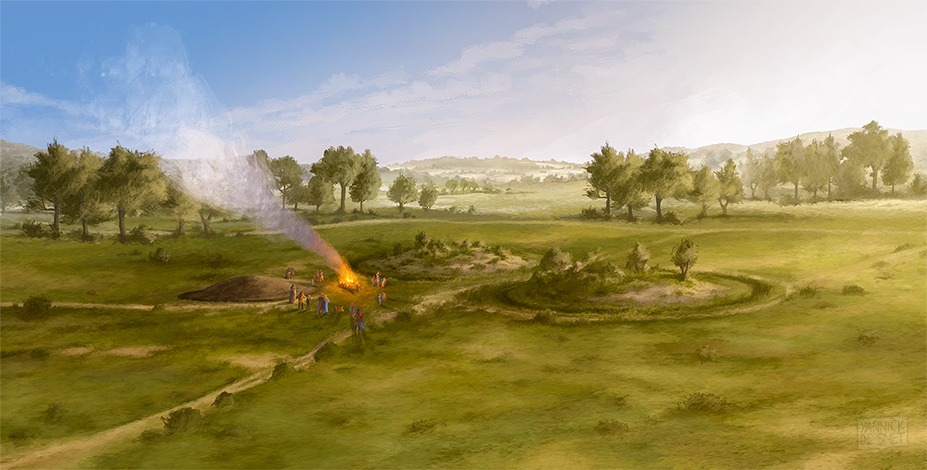 New society creates a new landscape
Near the center of Ronse, on a natural hill, archaeologists found three tumuli from the Bronze Age. These are the filled canals that surround a burial mound. These burial sites remained visible in the landscape for centuries due to their size.
The first subdivisions of the landscape
At Ronse Pont West we see strong changes in the way people organize their farms. Moreover, they will also increasingly influence the surrounding landscape.